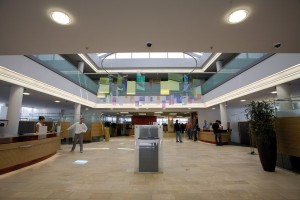 LANgineers provides state-of-the-art, best in class, video security solutions.  Our systems can count people moving along a specified path and we have numerous type of output alarms.
With "movement tracking" technology, using thermal imaging, stores can perform analytics based on heat maps to show the popular and least frequently trafficked areas
People Counting reports generated can show the number of people walking towards a cash register
HEMISPHERIC LENS with ULTRA HIGH RESOLUTION
Pan-tilt-zoom with NO moving parts
360° ceiling or 180° wall mount
PURE IP TECHNOLOGY REMOTE ACCESS FROM ANYWHERE
Telephone built-in.
Text & email notification built-in.
Speaker & microphone built-in.
COMPLETE SYSTEM for VIEWING AND RECORDING
Motion Activated and Continuous Recording
Temperature Sensor
Contact Closures & In/Outputs
allow integration with Lighting & Automation
Download our IP Video Sales Flyer Here!